ASRA is concerned with improving safety standards for pilot training and aircraft. We aim to promote safe and responsible professional practices, while retaining our identity, reducing costs and minimising restrictions.
Rick Elliott
President
[Accountable Manager]
Board Member
Berowra, NSW 0408 969 118
Mark Divito
Vice President
Registrar
Board Member
North Brighton, SA 0403 285 478
Ross Morrish
Biloela, QLD
07 4992 5465
Jeff Blunt
Operations Manager [Head of Flight Operations]
Board Member
Valentine, NSW 0421 784 088
Peter Baker
Mandurah East, WA 0407 929 479
Mark Regan
Technical Manager
[Head of Airworthiness and Maintenance]
Board Member
Melbourne, VIC 0411 423 428
Paul Campbell
CASA Liaison Officer
Board Member
Brisbane, QLD
0402 002 266
Mark Robertson
Buderim, QLD
07 5445 8111
Position Vacant
Assistant Technical Manager
Wayne Mitchell
New Lambton, NSW 0418 431 456
Position Vacant
Assist. Operations Manager
Tony Arbon
Caboolture, QLD 0458 707 338
Ross Morrish
Biloela, QLD
07 4992 5465
Ross Morrish
Biloela, QLD
07 4992 5465
The original aircraft known as an 'autogiro' was invented by Spanish engineer Juan de la Cierva, with the first successful flight being in 1923.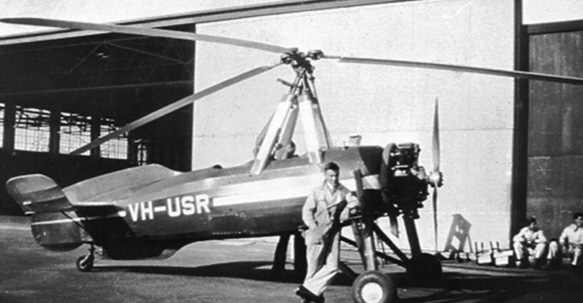 Cierva C30A autogiro
In the 1930's 4 license built Cierva C 30A autogiros were imported into Australia, made by A.V. Roe (AVRO) at Manchester, UK. Only one Australian example survives, VH-USR, currently on display at Sydney's Powerhouse museum.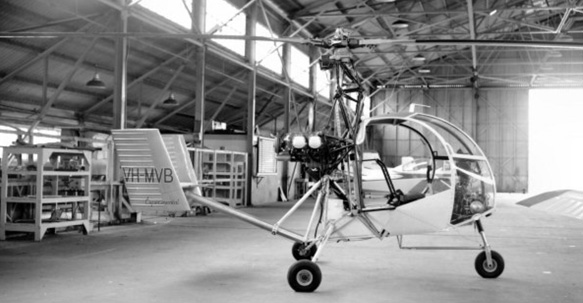 Victa Model 67 (1962)
In the early 1960's the Victa motor mower company developed an aviation division, with one of their projects being a prototype pusher gyroplane designed by Mr John Blackler and powered by a Lycoming 180 hp engine. Called the Victa Model 67, registered as VH-MVB, it first flew in May 1962 and subsequently amassed 20 hours test flying time and is now in the Camden air museum, NSW.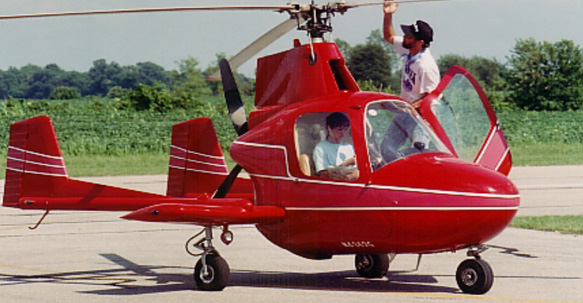 McCulloch J2 certified gyroplane
In the early 1970's 8 American McCulloch J2 2 seat side-by-side certified gyroplanes were imported into Australia and assigned VH registration in the ensuing decades up to 5 more found their way by various means into Australia as well as several to New Zealand, but none are currently VH-registered or in operation. With a gross weight of 1598 lb and a 3-bladed Jovanovich 25.9 foot rotor (a variation of the rotor used on Hughes 300s), the type had a disc loading of 2.9 lb per square foot and had a power-off sink rate that sometimes exceeded 2200 feet per minute. The J2 was commercially and operationally unsuccessful in the United States and elsewhere, including Australia. Low payload, short range, high noise and poor rate of climb all contributed to make them impractical.
One J2 is provisionally on the ASRA register but is not yet rebuilt and will also need CASA approval to be flown. From time to time word gets around that other J2 rebuilds not registered with ASRA are close to completion, but at time of writing none have resumed operation.
The only other modern-era commercially built certified gyroplane was the American Air and Space 18A tandem 2 seat pusher. Like the McCulloch J2 it was commercially unsuccessful and none came to Australia.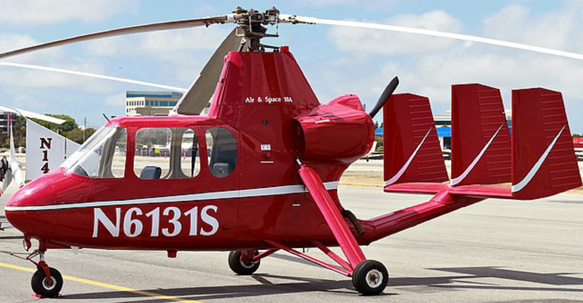 Air and Space 18A certified gyroplane
As at early 2014 there were no VH-registered gyroplanes. All gyroplanes currently flying in Australia operate under the auspices of the Australian Sport Rotorcraft Association (ASRA), and are allocated a "G" registration number by ASRA. The numbers are requested by members and either have 3 or 4 numerals following the G.